SeaRake
SeaRake est la solution pour l'internet en Mobile Maritime, sans le coût et les latences du satellite et ce, à plus de 30 nautiques au large des côtes.
SeaRake est disponible pour des applications Militaires dans les fréquences OTAN et Défense des 4.4 à 5.0 GHZ. et en UHF 300-370MHz

SeaRake est disponible en 1 watt dans la gamme UHF 330-370 MHz et en 27 dBm 4.4 à 6.2 GHz dans la bande NATO 4 Ghz et 5GHz ISM sans licence. Particulièrement adapté pour assurer des liaisons lointaines et difficiles ainsi que les transmissions vidéo mobile temps réel IP full duplex dans les formats H264. SeaRake se décline en plusieurs versions. Station relais fixe, mobile ou portable, équipements mobiles, stations relais associées aux AP 802.11abgn intégrés.
LandRake est une configuration de SeaRake adaptée aux applications de mobilité ( mx 200 KM/h) maritimes et terrestres.
Diversity MIMO 2x2 ou 4x4 SeaRake, est la nouvelle génération succédant aux radio MobiRake Wi50-Diversity. Ces radio 5.4 GHz de 1 Watt à 100 watts, se caractérisent par l'usage d'antennes à diversité d'espace, à diversité de champ et en polarisation double circulaire "RHCP" et "LHCP« , pour un usage NLOS.Ce concept de radio et d'antennes est destiné à neutraliser les effets néfastes de la mobilité, ainsi que les mouvements aléatoires de tangage et de roulis des navires.
SeaRake intégre, les firmware pour les protocoles OFDM TDMA PMPT ou bien pour les protocoles OFDM CSMA OLSR (RFC 3626). Ce protocole, développé par l'INRIA en France (http://www.ietf.org/rfc/rfc3626.txt) est utilisé par les militaires au niveau international et implémenté en version propriétaire par e-Rake dans les gammes Radio NATO MHz et 4.7 à 4.99 GHz. et dans la gamme des ISM sans licence et avec licence 4.9 à 6.2 GHz

SeaRake Spécifications
Fréquences standard Défense: 330 MHz à 370MHz et OTAN 4.400 MHz a 5.000 MHz

Fréquences standard ISM: 4.900 à 6.100 MHz

Fréquences en option de 30MHz à 6.000MHz

Puissance en SHF 27 dBm, en UHF 1 watt. Options: 4 watts -20 watts-100 watts

OFDM Débit Utile de 70 mbps à 250 Mbps selon fréquences et canaux

Latence constante, maximum 2 ms par bond

Antennes Panneaux sectorielles LHCP et RHCP 16dB-19dB-22dB

Antenne ''cierge patchs'' mobile Omnidirectionelle ''Diversity RX'' 10 dB Pol V

Antenne ''Phantom'' mobile Omnidirectionelle ''Diversity RX & Field Diversity '' 3 dB Pol V & H
Features of MIMO Diversity:
1- Be improved antenna gain to be reach longer distance
2- Improve the efficiency of frequency use
3- Reducing Co-channel Interference between CPEs to increase system capacity.
4- Spatial Division Multiple Access to reduce the impact of multi-path.
5- Enhance the link quality to achieve high-speed transmission
6- Mesh without more latency and with any data speed reduction in MIMO 4x4
Vidéo USV -UAV SeaRake en version Radio SkyMesh 4x4 +2x2 + GPS
& ses antennes à diversité de champ et de polarisation:
Documentations SeaRake & LandRake et les options PWS.
Calculateur

du Bilan de Liaison.
Sélection des antennes et du gain.
Choix des puissances.
Sélection du seuil de bruit
Prévision de la portée en trajet maritime.
Prévision de la portée en trajet terrestre.

Estimation du Débit/Distance
Intégrations SeaRake et LandRake en versions portable et véhicule
THALES Version SkyMesh-MIMO MiniOS1.3.9RC35_A7_20171019-1506.zip
Télécharger le ZIP.xls de la gamme des radio SkyMesh civiles et militaires: Fichier ZIP de 2.881 Ko
SeaRake IPTV Live Mobile Maritime
La Vidéo est accessible uniquement les jours de démonstration en live
Pour visualiser avec VLC
Pour se connecter, en VLC demander votre code d'accès à Radionav ou à Hypercable

IPTV en direct du réseau SeaRake

---
Routeur radio 3G-4G LTE IP68 & ATEX
Le routeur HYC-OLTRG-101 mobile, nomade ou fixe GPRS / EDGE / 3G-4G large bande LTE, utilise Internet pour interconnecter les systèmes de manière rentable, permettant aux IHM, PLC, capteurs, Cameras déportées , systemes de télésurveillance etc. de communiquer entre eux.
Son design étanche IP68 sa version ATEX avec antennes spécifiques ainsi que toutes les interfaces et LED situés en face inférieure font de cette unité étanche un appareil parfaitement adapté aux applications industrielles en conditions sévères. Grâce à l'isolation entre le bloc d'alimentation, les ports Ethernet et série, le HYC-OLTRG-101 protège des problèmes engendrés par les boucles de terre et la foudre
La double carte SIM du dispositif garantit que la connectivité du site ne dépend pas d'un seul opérateur. En cas d'incident, l'unité bascule simplement sur l'autre carte SIM. Alimentation de 10 à 60 Vcc.

HYC-OLTR(G)-101 4G/LTE Router is a highly reliable and secure wireless communications gateway designed for industrial networking, Operator or WISP create their own networks to share bandwidth with customers and also for marine and coastal communication applications.
It supports multi-band connectivity including FDD / TDD LTE, WCDMA and GSM for a wide range of applications and vertical machine-to-machine (M2M) markets. To enhance reliability, OLTR(G)-101 is equipped with dual SIM that supports failover and roaming over to ensure uninterrupted connectivity for mission-critical cellular communications. With flexible LAN / WAN Ethernet options, OLTR(G)-101 series allows you to customize your professional applications in diverse environments.
It also provides enterprise-grade software features, such as Quality of Service (QoS) for traffic prioritization, IPSec, OpenVPN, Firewall security and so on.
The device is administrated via web GUI, Telnet, SSH v2 and HTTP/HTTPS. Built for secure and uninterrupted operation in harsh environments, HYC-OLTR(G)-101 series supports extended operating temperature from -40 to +70°C and a flexible input voltage range of 10-32V DC.
HYC-OLTR(G)-101 is an ideal cellular communications solution for heavy industrial use.
Calculateur de l'Horizon Optique et de l'Horizon radio électrique:
Découplage des antennes
Horizontal Isolation Calculator
Enter Appropriate data (assumes use of
OMNI
antennas)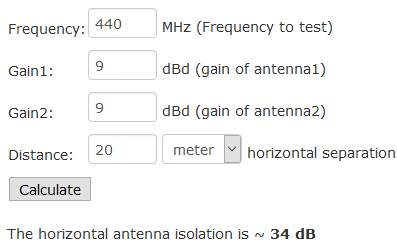 Note: Data is based on the use of half-wave dipole antennas. The data also provides acceptable results for gain type antennas if the spacing between the gain antennas is at least 50 ft. (15.24m) (approximately the far field). Experience has shown that isolation improves when the two horizontal spaced antennas are in the near field of each other.
Vertical Isolation Calculator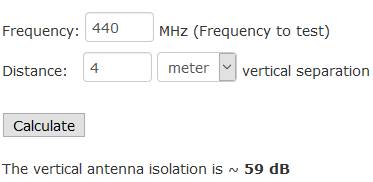 Note: The values indicated above are approximate because of coupling which exists between the antenna and tower transmission line. Data is based on the use of half-wave dipole antennas. The data also provides acceptable results for gain type antennas if (1) the spacing is measured between the physical center of the antennas and if (2) one antenna is mounted directly above the other, with no horizontal offset (exactly collinear). No correction factor is required for the antenna gains. Valid for I(dB) <= 70 dB max.